Bettering Our World
Sollera sees its role in the community as more than just an employer and a manufacturer of cabinets.  As a part of the local community and the world community, Sollera has sponsored much charity and missions work in countries which include:  Brazil, Paraguay, Peru, Bolivia, Fiji, India, Ukraine, Russia, Congo, Mexico, Nigeria, China and more.
 Helping Overseas
 Sollera Fine Cabinetry recently teamed up with Hope of Life International, a non-profit organization, and traveled to Guatemala in Central America with a group of volunteer employees.  They visited remote areas where severe malnutrition has taken hold due to adverse weather conditions, poor soil, and the global economic downturn.  Trekking through the jungle they brought in bags of food and were able to help bring a young child with his mother to a proper medical care facility so that he could be provided with nutritious food, clean water, and be treated for parasites and other medical conditions.
 The bonds, friendships, and memories created will be cherished and remembered forever.
 Click here to learn more about how you can help make a difference.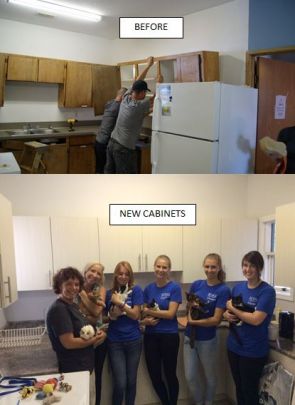 Supporting the SPCA
Sollera Fine Cabinetry visited the SPCA in Abbotsford BC and discovered the need for a new kitchen.  The old one was removed and the new one put in place.

"Our new kitchen is finally finished!!! We couldn't be more grateful and appreciative of Sollera for not only donating and installing a brand new kitchen to our branch but also donating money to help us stock our shelves! Thank you Sollera!!!" (Abbotsford SPCA)
Click Here to find out more about the SPCA and to donate


Sollera Fine Cabinetry's support helps provide for people's physical, emotional, and spiritual needs. To learn more or to donate, please click on the World Serve logo.